katew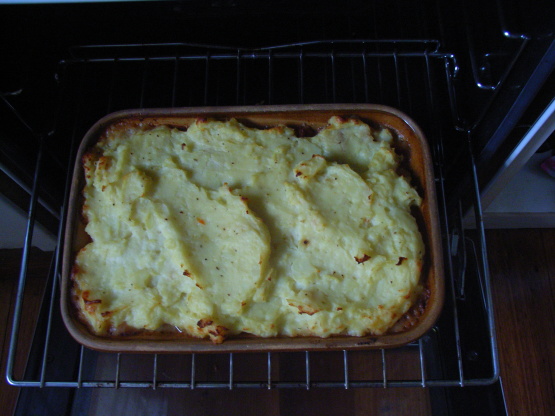 I got this recipe from the About.com Low Fat Blog and modified it a little bit. My boyfriend, who studied for a year abroad in England, said that his English roommates would be proud! For a twist and some more color, try it with sweet potatoes!

This was simple, quick, and pretty tasty for me. I followed the recipe except for the oil, as I didn't have canola so subbed evoo. This is the first time I have ever made or had Sheperd's pie, so I don't have a working knowledge of it but I did enjoy it. I am glad I gave it a try and we might try this again. Thanks for posting. = )
In a large saucepan or wok, saute carrots and onion in oil on medium-low heat until soft (about 10 minutes).
Turn heat up to medium, and add in ground beef. Cook until no longer pink.
Add in Worcestershire sauce, beef broth, tomato paste, peas, and spices. Reduce heat and simmer uncovered for 15 minutes.
While sauce is simmering, bring a large pot of water to a boil. Add in potatoes. Cook for about 15-20 minutes until tender. Drain water, add in butter and milk, and mash with a potato masher.
Preheat oven to 400 degrees.
Pour meat and vegetable mixture into a 13x9 casserole baking dish. Top with mashed potatoes.
Bake in oven for about 20 minutes until potato topping begins to golden up.