Low-Fat Scalloped Potatoes
ImPat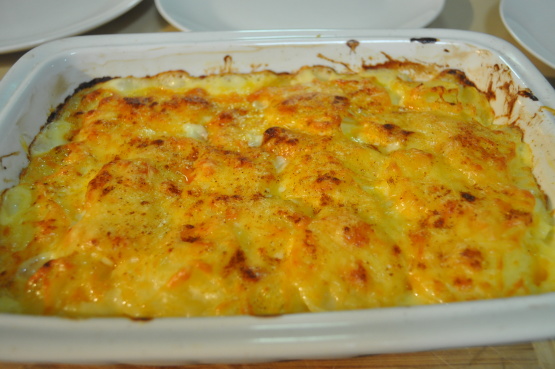 If you want to lighten up a weekday or holiday meal, this dish sounds like a winner! This recipe uses yukon gold potatoes and gruyere cheese along with a combination of low-fat and whole milk. Recipe from Food Network magazine.

WELL Nancy here's a review and a well deserved 8 stars. This was one of the best Low-Fat Scalloped Potatoes recipe I have did in a long time! I used my food processor to slice the potatoes which made prep even easier. This is a quick restaurant tip...as has been said a food processor works great, but if you use the plunger the slices tend to cut thicker, we just let the potato sit under it's own weight to slice w/ the processor for nice thin slices. We served with steak, home made bread, a good red wine and ended up with one of the best dinners we've had lately. I split the casserole into two 8x8's and put one in the refrigerator for another dinner this weekend. Will definitely make this again! I TAG this recipe for Everyday Is A Holiday and with this recipe it is a happy one too.!! - May -24- 2013 THANK YOU !!!
Preheat the oven to 350 degrees. Lightly butter a 3-qt baking dish. Bring a large pot of salted water to a boil; add the potatoes and cook until just tender, 8-10 minutes. Drain the potatoes and return to the pot. Meanwhile, melt 2 tablespoons butter in a saucepan over medium heat. Stir in the flour with a wooden spoon to make a paste. Cook, stirring, until the paste puffs slightly, about 1 minute. Gradually whisk in both milks and simmer, whisking constantly, until thickened, about 3 minutes. Remove from the heat and whisk in 1/2 teaspoons pepper, 1 1/2 teaspoons salt and the nutmeg. Pour the sauce over the potatoes and gently toss to coat.
Transfer the potato mixture to the prepared baking dish and sprinkle with the gruyere cheese. Bake until heated through, about 10 minutes. Switch the oven to broil the potatoes until browned on top, about 5 minutes. Let rest 10 minutes before serving.