Low Fat Quiche With Rice Crust
KateL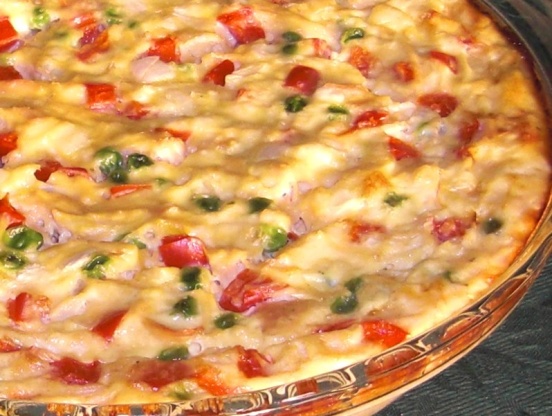 I'm not sure where I got this recipe, but it makes a nice, much lighter than normal, quiche. I like it made with broccoli and mushrooms, and served with fresh tomato slices. I do steam the broccoli a bit before hand if it is frozen.

Top Review by KateL
4 Stars, frittata-like taste that benefited from the strong cheese (I used feta) to wake up the taste. I had difficulty getting the rice to make a crust, it took me much longer to complete (that may be due to my oven's calibration), and I was unable to remove a clean piece after letting it cool a bit. The brown rice adds a healthy touch, but for ease of serving, I would rather have a pie crust or lay down a phyllo sheet for the thinnest possible crust. I baked chicken breasts in water with traditional poultry herbs. I bought feta cheese by mistake, but its zing (or from goat cheese) was essential to this recipe. Thanks, Aimee for posting. Made for PAC Fall 2008.
1 1⁄2 cups cooked brown rice

1

egg white, slightly beaten

2

eggs

5

egg whites

8

ounces cooked chicken breasts, diced

2

cups vegetables, chopped small (ie, onion, pepper, broccoli)
1 1⁄2 cups skim milk

100

g goat cheese
Preheat the oven to 350°F/180°C.
Mix the rice and slightly beaten egg white to make the crust. Spread in a large pie pan, or small rectangular pan. Bake for 5 minutes.
Beat the eggs and remaining 5 egg whites. Add the remaining ingredients and mix.
Pour onto the crust and bake for 40-50 minutes, until set.