Low Fat Pumpkin Oatmeal Cookies
Kitty Z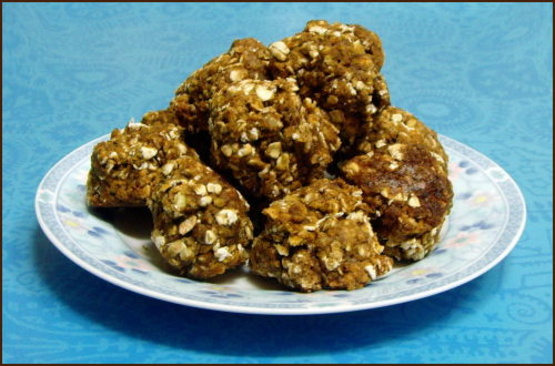 These low-fat pumpkin cookies are great for the fall holidays and make a healthy after-school snack for the kids too. Try them. You won't believe how good they are until you do! Recipe from www.allhomemadecookies.com

My son and I made these for a healthy snack to pack in his school lunch. We added a half cup of non-fat plain yougurt and they are tasty and chewy! We will make these again!
Spray baking sheet with cooking spray. In a large bowl combine pumpkin and egg whites. In a separate bowl combine sugar, flour, baking soda, cinnamon, nutmeg, cloves, oats, and raisins. (Batter will be very dry at first.) Mix ingredients together just until moistened.
Drop cookies by tablespoonfuls onto prepared baking sheet, 2" apart. You can leave the cookies in the shape of a ball (the baked cookie will still be a ball) or flatten them out with the bottom of a glass before baking.
Bake at 350 degrees for 15 minutes.