Ninna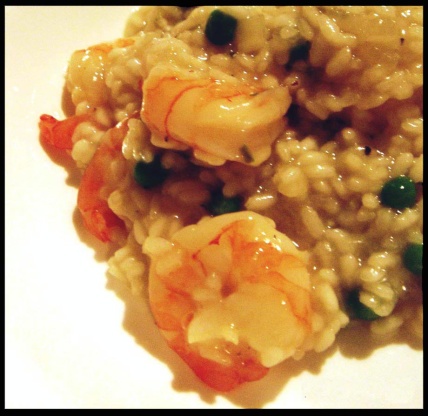 If kaffir lime leaves are not available use fresh lime zest & a little of the juice. I buy green king prawns and sauté them in a little olive oil and garlic until they are just pink because they will cook a little more once added to the risotto.
Sauté leek in a large pan using 1/2 cup of the stock until just soft; add garlic, kaffir leaves (vein removed and cut very finely with scissors) and rice and cook a minute or two, stirring well.
Bring stock to the boil in a medium saucepan, and then reduce heat to keep simmering.
Add 1 cup of the simmering stock to the pan of rice and stir until stock has been absorbed; continue adding stock, a cup at a time and stirring frequently until absorbed and until all the stock has been added.
Add frozen peas and the sautéed prawns and stir into risotto, cook for 1-2 minutes until peas are cooked and prawns are heated through.
Garnish with parsley and serve parmesan on the side for those who don't mind the extra calories.