Parsley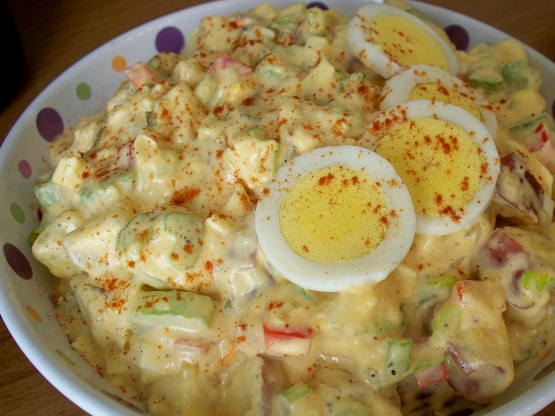 This is a deliciously creamy yet low-fat potato salad. The french dressing plus the mayo and yogurt adds some tang and colour to the salad. I have never felt the need to add any salt to this recipe. Plan ahead, this salad needs 2x4 hours chill time. NOTE: If you choose to use the whole eggs instead of egg whites the fat content of this salad will increase. It is also nice to use the 3 or 4 egg whites and then use one sliced whole egg as a decorative topping.

Top Review by jgrit
I followed the recipe exactly except for leaving out the radishes since our son does not like radishes. This was excellent. My husband is addicted to potatoe salad so I thought I would find a healthier version of his favorite high fat salad. He loves this one just as much and our son loves it too. Thank you for posting this wonderful healthier recipe!
Peel warm potatoes; cut into cubes.
Place the cubed potatoes into a large bowl; Pour French dressing over them and toss; Cover and refrigerate for at least 4 hours.
After the 4 hours, add celery pickle, pepper, onion, and radishes to the potatoes; toss.
In a small bowl mix together mayonnaise, yogurt, mustard, lemon juice, salt (if desired), and pepper.
Pour dressing over salad; toss; stir in egg whites.
Cover salad and refrigerate at least 4 hours or overnight.
Before serving, if desired, sprinkle with paprika.