Low Fat Potato Bacon and Cheese Hash Browns Homemade
Peter J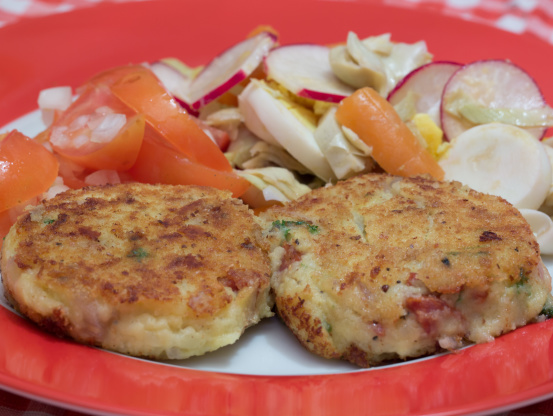 Inspired by a magazine, TRUE! Then took a little bit different twist too! GREAT for a weekend when want to indulge, LOW fat and tasty without giving your body the bulge :)

Top Review by Kim127
Well, these were nifty little treats! More like a mashed potato patty than hash browns, but terrific flavor. Almost a loaded baked potato! I used fresh parsley and regular bacon (its what we had in the freezer). I also left out the stock. I think these would go perfect with grilled steak or roasted chicken.
900

g potatoes

1

tablespoon stock

100

g low-fat bacon

1

cup low-fat cheese

1

egg

2

tablespoons parsley
1⁄2 cup breadcrumbs
cooking spray
Peel potatoes and cut in half; place in large saucepan and cook uncovered for 15 - 20 minutes until soft; mash.
Fine dice onion and bacon; Spray frypan with cooking oil and sauté both for 5 minutes.
NOTE: I used Weight Watchers bacon.
Add above mixture, egg (slightly beaten), cheese and parsley to potato mash; season with pepper.
Using 1/2 cup of potato mixture, roll slightly in breadcrumbs; place on a plate and refrigerate for at least 30 minutes.
Spray frypan with cooking oil and cook patties 5 minutes of until golden brown on both sides.
ENJOY!
NOTE: I served them with rocket, feta and tomato with scrambled eggs on top with apple cinnamon fruit slice and fat-free strawberry jam.