Low-Fat Poppy Seed Chicken
DeniseBC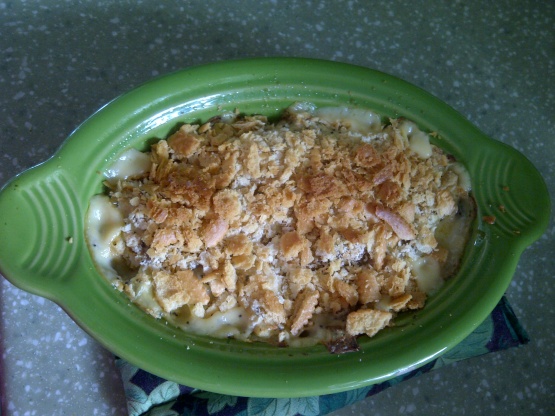 From the Weight Watchers message boards.
I was pouting a bit about not getting to go to my favorite diner in town today to have their Poppy Seed chicken so I found this recipe. I agree that 1 T. of poppy seeds are plenty; I mix them into the soup mix as people around here tend to do. I also pulled chicken out of the freezer that had already been cooked and diced but it would have been better if I had either seasoned it during cooking or seasoned the mix a bit before cooking. I might try some garlic powder next time. Since DH and I work different shifts, I put this into 4 individual baking dishes and only put crackers on mine so we can cook the others when one of us is here to eat. I still cooked for about 20-30 minutes. Not as rich and decadent as the diner's variety, but still yummy and filled the spot! Thanks for sharing!
Combine chicken, soup, sour cream, diced onion and poultry seasoning in a baking dish. Crush Ritz crackers and combine with poppy seeds; sprinkle evenly over the top of the casserole. Bake in preheated 350°F oven 15-20 minutes until heated through.