ImPat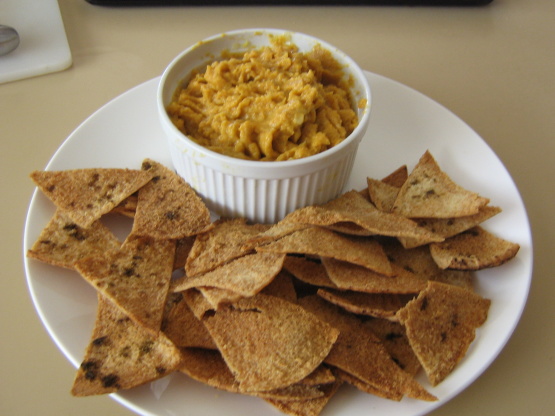 These are delicious, and very low in fat! I've served these with all sorts of dips, salsas, or hummus, and they always disappear-even before all the store bought chips or crackers. Feel free to experiment with the different spices shaken over the tops. Cumin is great for Mexican dips, but the Garlic Powder works really well too. Cayene pepper might be nice too if you like things a bit more spicy!

What a treat! I sprinkled cinnamon and sugar over the top. Not as healthy but delicious and great for a comfort food.
5

(6 inch) whole wheat pita bread
3⁄4 teaspoon ground cumin (your choice) or 3⁄4 teaspoon garlic powder (your choice) or 3⁄4 teaspoon onion powder (your choice)
salt & freshly ground black pepper, to taste
Preheat oven to 350 degrees Cut each pita into 8 pieces, and then separate the pita"halves" to make 16 triangles per pita.
Spray baking sheet with olive oil cooking spray.
Arrange chips in a single layer on the baking sheet and lightly spray with cooking spray.
I usually need two baking sheets to fit all the chips in one single layer.
Sprinkle each tray with half of either the cumin, garlic powder, OR onion powder, depending on your preference.
Season with salt and pepper to taste.
Bake until chips are crisp, about 10-15 minutes.
The pita chips can be made ahead and stored in an airtight container for several days.