cbw8915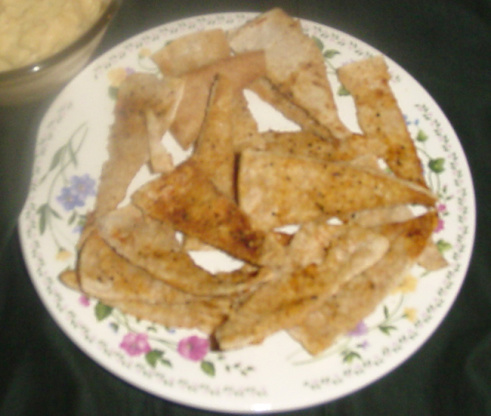 I think these are better than full-fat tortillas, and they cost about 30 cents to make. Try them with hummous, salsa, or any other dip in the entire world. I even eat them plain with some Red Hot or Tabasco sprinkled on.

Yummy, easy and economical ~ you can't go wrong : ) I went with garlic and onion powder, kosher salt and pepper. I'm not sure why, but by 10 minutes, mine were almost too brown. Keep an eye on them the first time you make them. Will go great with the white bean dip I'm making. Thanks for posting. UPDATE: had much better luck reducing the oven temp to 300 and baking for 11-12 minutes.
2

pita bread, white or 2 wheat, pocket-style

1

egg white

1

tablespoon olive oil
any powdered seasoning
Preheat oven to 350.
With scissors, cut pitas around the outside into 2 rounds each.
Whisk together egg white and olive oil.
Brush this onto the insides of the four pita rounds.
Season however you want.
I've used garlic powder, cajun seasoning, greek seasoning, cayenne pepper, curry powder- all delicious.
Stack the rounds and cut them into 8 triangles.
Spread in single layer onto baking sheet, seasoned side up, and bake for about 15 minutes, making sure they are no longer soft, but not too brown.
Store (I've never gotten around to this part) in an air-tight container or bag.
Mmmmmm, guilt-free snacking.