Low Fat Peach Frozen Yogurt
Boomette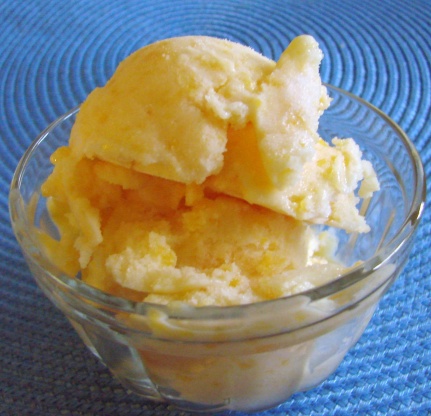 WOW! I made this last night and it was sooooooooo good. This recipe came with my icecream maker.
I used homemade can peaches in syrup and used only 1/2 cup of syrup. I didn't add sugar cause the peaches and syrup were already sweetened. I used the food processor to chop the peaches. Then I added yogurt and syrup and blend a few seconds. The texture was perfect. The taste is great. I love it. Thanks StrikingEyes. Made for PAC Fall 2008
Drain peaches reserving 1/2 cup of the juice (for me, it turned out to be all of the left over juice).
Put peaches in a blender and pulse to chop.
Add the sugar, yogurt, and juice and blend until smooth.
Chill in the refrigerator for a half hour to an hour (depends on how patient you are - I did a half hour and it was fine).
Pour into ice cream maker and churn for 25 to 30 minutes.
ENJOY!