Low-Fat (Or Fat-Free) Banana-Crunch Muffins
Derf2440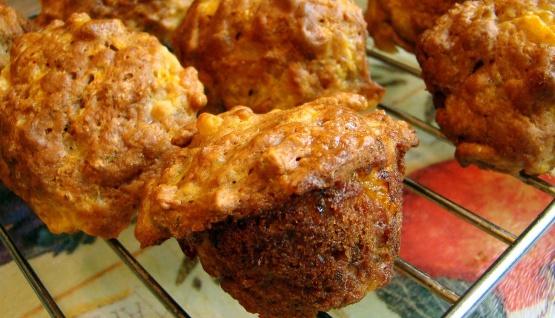 I found this on Yahoo! health online. Wanted to find a healthy use for some of my aging bananas. It's moist and certainly guilt-free!!!

I made this recipe because I needed something sweet, healthy, and not fattening since I am on Weight Watchers. This was a great any time snack and very easy to make. It took me no time at all. Baking took the longest. They are delicious right out of the oven or cooled for a few minutes. Try it if you are a muffin lover.
Preheat oven to 350°F.
Spray 24 mini-muffin-pan cups with nonstick cooking spray.
In medium bowl, mix first six ingredients.
In large bowl, with wire whisk or fork, mix bananas, yogurt, egg substitute (egg) and vanilla well; stir in flour mixture just until moistened.
Spoon batter into muffin-pan cups.
Bake muffins 20 minutes or until tops are golden and toothpick inserted in center of muffin comes out clean.
Remove from muffin-pan cups to wire racks.
Serve warm, or cool to serve later!
Note: I made these in heart-shaped pans I bought at a local grocery store.
This recipe only yielded four heart-shaped cakes when I did that, and I baked them for about 45-50 minutes.