Low Fat Oatmeal Chocolate Chip Cookies
Mika G.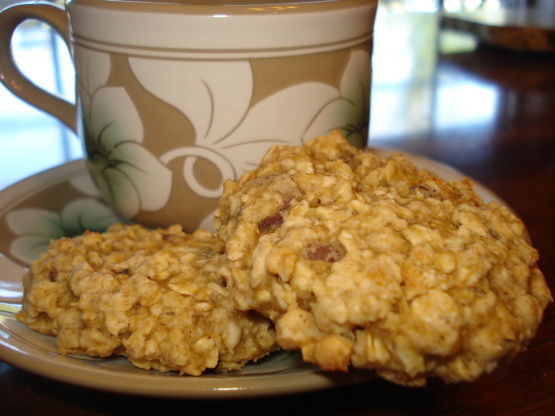 Forgot where this came from...

Found this while searching for a healthy treat for my sweet-tooth lovin' hubby. He needs to watch his sodium, fat and cholesterol so adapted as follows: Used all whole wheat flour, cut the salt down to a pinch, added 1-2 T. ground flax (blended in with butter and sugar), used 1/2 cup brown sugar plus 1 T. honey (no white sugar), used cinnamon applesauce (no sugar added kind), and added 1/2 cup chocolate chips, 1/2 cup craisins, and a little bit of roasted pepitas (because they were already mixed with the craisins!). These cookies are moist, flavorful, filling and hubby says he likes them better than the real thing! I recommend adjusting sugars/honey depending on how sweet you like yours... This will be a new favorite in our house!
Preheat oven to 350F and line a baking sheet with parchment paper.
In a medium bowl, whisk together flour, baking powder, baking soda, salt and cinnamon.
In a large bowl, cream together the butter and the sugars. Beat in the egg, followed by the applesauce and the vanilla extract. Working by hand, stir in the flour mixture and the oats until just combined and no streaks of flour remain. Stir in the chocolate chips.
Drop tablespoonfuls of the dough onto the prepared baking sheet, flattening each cookie slightly. Bake for about 10-12 minute Cookies will be light brown at the edges when done.
Let cool on sheet for 3 or 4 minutes, then transfer to a wire rack to cool completely.
Store in an airtight container.