Low-Fat Moist and Chewy Brownies
Cabnolen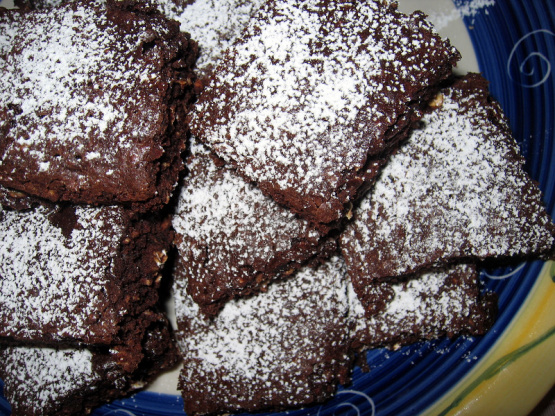 This is a recipe I stumbled upon and thought it would be a great fix for any person with a sweet tooth who is watching their weight!

This was a fabulous recipe! I used oat flour (I cut the recipe in half)-used 1/4 cup Splenda & sugar free syrup. I used 1/8 tsp baking soda, Eggbeaters & no nuts. At first I thought there wouldn't be enough liquid to match the dry ingredients but it was fine! Mine baked in about 18 minutes. They were wonderful. Thank you so much for sharing this!
Combine the flour, oat bran, cocoa, sugar, milk powder, and baking soda in a large bowl, and stir to mix well.
Stir in the chocolate syrup, egg whites, and vanilla extract,.
Fold in the nuts if desired.
Coat an 8-inch square pan with nonstick cooking spray. Spread the batter evenly in the pan, and bake at 325 degrees fahrenheit for 23 minutes, or just until the edges are firm and the center is almost set.
Cool to room temperature, cut into squares, and serve.