Low Fat Middle Eastern Beef Koftas
rpgaymer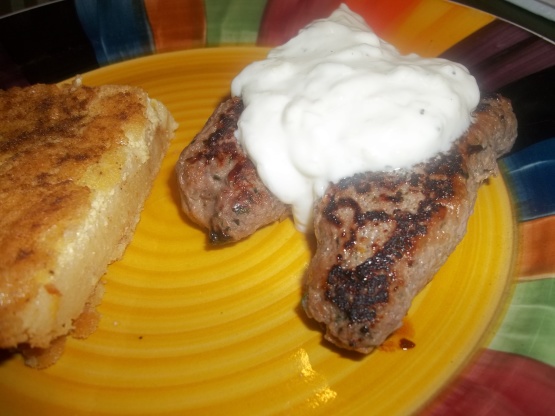 Inspired by local magazine, TRUE! Added, subtracted to make my own too! This IS yummy as can be! No extra calories or extra fat will you see!
These koftas are delicious and perfectly seasoned! I thought a cup of mint was way too much, but nope- it was just the right amount. I did however use a different sauce. I just made my usual tzatziki, but added two drops of mint extract. We had this with chickpea pie, and it was a great meal.
COMBINE beef, GRATED red onion, parsley, mint, allspice, GRATED lemon rind and juice of lemon in bowl.
Make in 7 or 8 rolled sausages.
SPRAY pan with oil and cook beef until cooked.
NOTE: To make it easier to cook, make sure sausages or rolled evenly.
NOTE: I put a plate and a can from the pantry on top to help to brown evenly.
In separate bowl, COMBINE vanilla low-fat yogurt and mint sauce (I used from the bottle; thick or thin will do).
Will serve with grape tomatoes and Bill Granger's Spiced Pumpkin recipe listed at ZAAR!
ENJOY!
**UPDATED NOTE: If the combination FEELS dry, you can add up to 2 Tablespoon of Greek Yogurt too as if the mixture is ultra dry before you grill, it will taste like that too!