Low Fat, Low Cholesterol Chocolate Cake/Cupcakes
DuChick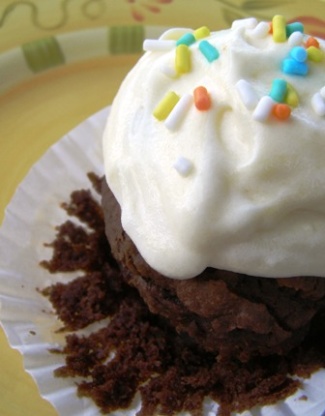 These are absolutely heavenly and oh so lite in taste. A wonderful little decadence that you don't mind cheating a little while dieting. I make them into cupcakes but the recipe actually is for a cake. The serving size is a guess. If you make them into cupcakes, make sure you fill them all the way to the top as they don't puff up that much. The frosting makes a huge amount and so adjust accordingly depending on if you're making cupcakes or a cake.

I am not a big cinnamon fan, so omitted it, and added instant coffee to the warm water, and this was super!
Mix cake mix, pumpkin, water and cinnamon until well blended.
Batter will be thick.
Pour into a 9x13 GREASED pan, or cupcake liners.
Bake 350°F for 40 minute for a 9x13 or 20 minute for cupcakes or until toothpick comes out clean.
Frosting:.
Mix pudding with milk, then blend in cool whip.
Frost when cake is cool.
Keep refrigerated.