Low Fat Low Calorie Cool 'n Easy Pie!
Pam-I-Am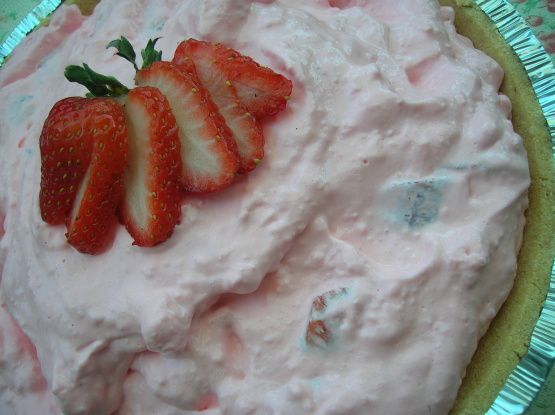 An incredibly delicious 3 ingredient pie! Use any flavor Jello (we like peach or strawberry kiwi). It's so easy and it really yummy! No guilt! Just a creamy, lightly sweet dessert everyone will love! Top with a little fresh fruit if you like!

All I had on hand was the regular jello and cool whip. So I made it with those. YUMMY!!!! But I will make it with the low cal ingredients next time. I don't think it will be any less delicious!So why eat extra calories? I used raspberry flavor. This is SO good!! Thanks SaraFish for a great recipe! This goes into my favorite file! :-)
Boil 2/3 c water.
In mixing bowl, mix boiling water and Jello for about 2 minutes until dissolved.
In a measuring cup, combine ice cubes and water to measure 1 cup.
Stir into Jello mixture til ice is melted.
Add Cool Whip and whisk until smooth.
Put mixing bowl in the refrigerator for 20 minutes to allow mixture to thicken.
Spoon filling into crust.
Refrigerate overnight.