PaulaG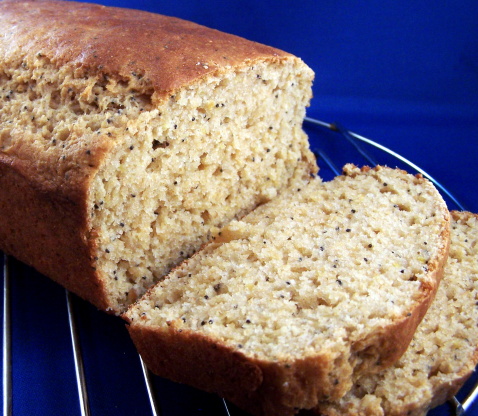 A lovely low fat lemon tea cake with poppy seeds. My family loves this one so much that the gobble it down soo fast! Like in one day - especially my brother.

I really liked this. Trying to watch my calories, I subbed Splenda for the sugar, used 1/2 c. of applesauce in place of the oil, added lemon zest and used 2% milk. Calories ended up being 97 with less than a gram of fat. Thanks for sharing..I will make this again.
Mix flour, sugar, baking powder, baking soda, and salt together in a large bowl. Make a well in the middle, set aside.
Mix the rest of the ingredients together in another medium sized bowl; pour it in the middle of the dry ingredients, and stir JUST UNTIL IT IS MIXED TOGETHER. If you overstir it, it will become a tough piece of crap.
Preheat an oven to 350 degrees and wait 2 minutes; grease a loaf pan(9x5x2 1/2 i think).
Bake for about 45 minutes, until the crust is brown and if you stick a toothpick inside it will come out clean.