Peter J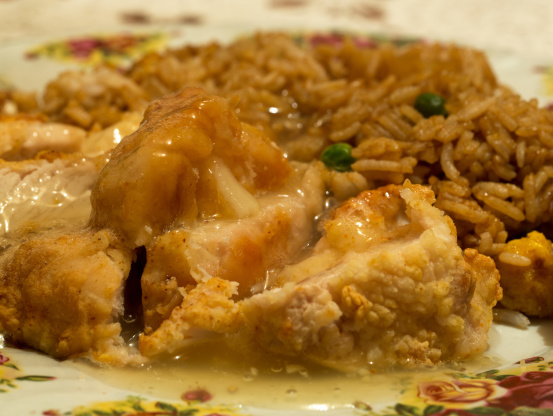 I found this recipe in the Jolly Cook cookbook. The chicken is coated in a flour mixture and baked instead of fried. Then serve with a delightful lemon sauce poured over the chicken.

Truly Excellent!! We all adored this and it got rave reviews from everyone. I served ours over egg fried rice for a perfect meal. I also made extra sauce as we love sauce and this sounded delicious and I am glad that I did as it was so yummy. I used a mix of honey and syrup as that is what I had on hand and it worked perfectly with the lemon, not overly sweet and still allowed the tartness of the lemon to come through. I loved the ease of baking this but would probably pan fry it next time to add colour to the chicken .I had to turn the grill on to brown as the chicken breasts stayed very uncoloured baking them. They did however come out very moist and it was only that aesthetically I prefer a bit of colour in the chicken for presentation. Apart from that this was a fantastic meal, that we will definitely be enjoying on a regular basis. Thanks for sharing Crafty Lady 13 a fabulous dinner that got a huge thumbs up in my house.
Heat oven to 450 degrees F. Spray a baking sheet with nonstick cooking spray. Cut each chicken breast in half. Mix flour, baking soda and cayenne pepper in a plastic bag. Combine egg whites and water in a medium bowl and mix well. Add chicken a few pieces at a time and turn to coat on all sides. Remove chicken from egg mixture and place in bag with flour. Seal and shake to lightly coat each piece of chicken. Place on baking sheet and bake uncovered for about 20-25 minutes or until chicken is cooked through.
Prepare sauce when chicken is almost done baking. Heat all sauce ingredients (except water and cornstarch) in a small saucepan until it reaches a light boil, stirring occasionally. Combine the cornstarch and cold water and mix well. Gradually add cornstarch mixture to the sauce. Cook, stirring constantly until thickened. Additional cornstarch/water can be added if a thicker sauce is desired.
Cut each chicken breast digonally into about 5 or 6 slices. Pour lemon sauce over chicken and serve.