Low-Fat Hot Artichoke and Spinach Dip
Pam-I-Am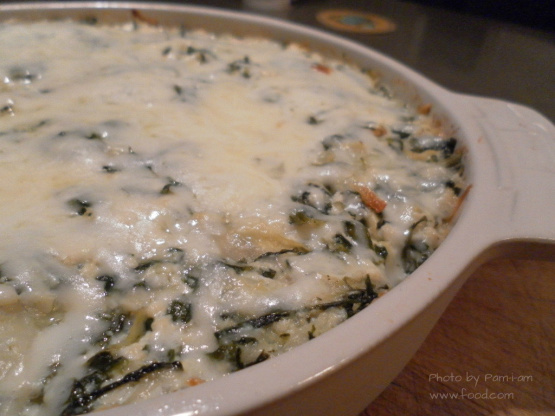 You won't believe this isn't loaded with fat when you taste it! No one even knows it as tofu in it! Substitute the parmesan cheese with veggie mozzarella cheese (grated) for a dairy-free version

The reviewers were right! So glad I trusted them. I took this to a party and crossed my fingers that it would deliver on flavor and texture and it did!! I didn't tell the ladies until several had take a second taste. After I told them it was tofu, they were so surprised. One lady who was holding back, decided to have some after all. She is watching her calories/fat. ~ I also made it for my vegetarian daughter for dinner one night. She loved it! I usually put a light layer of mozzarella cheese on mine the final 5 minutes of baking.
Preheat oven to 400°F.
Puree tofu, mayonnaise, mustard, lemon juice, garlic and onion powder in blender or food processor until smooth.
Transfer to bowl.
Stir in artichokes, spinach and cheese.
Spoon into 8-inch glass pie dish or casserole.
Bake for 20 minutes.
Dust with paprika before serving.