emtoor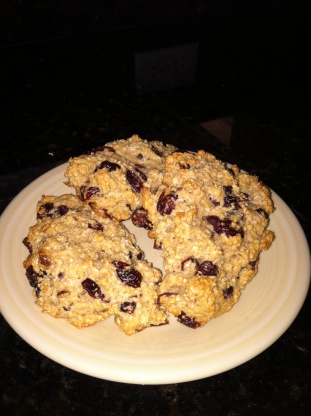 These are yummy and very versatile -- I made them this morning with chopped hazelnuts. A great low fat on the go breakfast!

Very good - I love the chewy texture the oats give to these. I also added about a 1/2 tsp of cinnamon, along with a 1/2 cup of chopped pecans and a 1/4 cup of cinnamon chips, along with the raisins. DH liked them too -- next time I will sprinkle them with cinnamon sugar after brushing the tops with milk before baking. I cut the dough into 8 wedges, and they are a nice size for breakfast or a snack. Thanks for posting - I will be making these again for sure! -M =)
Combine flour, oats, and baking powder, stir to mix well.
Stir in honey, egg substitute, raisins or cranberries, and buttermilk to form a stiff dough.
Form into a ball and turn on a floured surface into a 7 inch circle.
Coat a baking sheet with nonstick spray.
Place circle of dough on sheet, and use a sharp floured knife to cut into 12 wedges.
Pull wedges apart slightly, and brush the tops with skim milk.
Bake at 375 for 20 minutes or until lightly browned.
Serve hot!