Low-Fat, High-Fiber Yummy Banana Bread
Annacia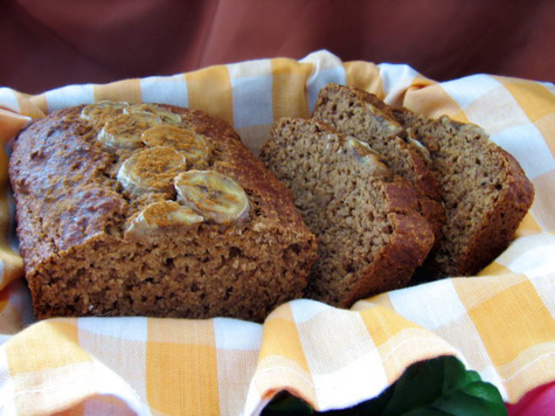 I make this each and every time we have bananas that are over-ripe. I toast slices to have along with my coffee for breakfast. I also use toasted slices to make peanut butter sandwiches for the kids' lunches. Who says if it's good for you it can't taste good too? The original recipe, which I have adapted quite a bit, came from Nick Malgieri's book "How to Bake."
Preheat oven to 375 degrees F, set rack at middle. Grease and flour one 8 1/2 x 4 1/2 x 2 3/4 - inch loaf pan.
In a mixing bowl, combine both flours and oat bran, baking powder and soda, allspice and cinnamon and stir well to mix.
In a separate bowl, whisk together the sugar, egg whites, applesauce, oil, vanilla and bananas.
Fold the flour mix into the wet mixture, be careful not to overmix.
Scrape the batter into the prepared pan. Bake for 45-55 minutes, until well risen and a skewer into the thickest part of the bread comes out clean.
Cool on a rack 5 minutes, then unmold and finish cooling.
Freezes well.