Low Fat Ground Beef Wellingtons
Sonya01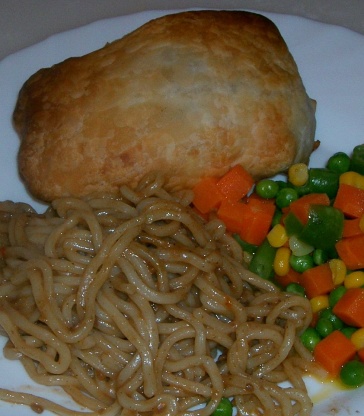 Inspired once again by the net, Are these REALLY low fat? YOU BET! Tasty little morsels, EASY to do! HOPE you will look forward to review!

Top Review by ImPat
The only change I made was on the advice of my dietician in that I used 400 grams of very lean mince/ground beef and make as 4 wellingtons (allowing 100 grams of meat per serve) and cooked at 200C fan forced for 10 minutes and then 175C fan fored for 35 minutes for golden crusty pastry and cooked all the way through. That said in making again I think I would make them as the 8 for in all honestly it was a struggle getting through 1 with sides as a dinner and the DM could only get through half though I know she could get through a full pattie without the pastry without problem. Thank you mickeydownunder, made for Aussie/Kiwi Recipe Swap #72 January 2013.
Heat stock in frypan; saute finely diced onion 5 minutes.
ADD garlic (I used jar), finely diced mushrooms (I used button) and celery; cook until celery is soft.
PLACE mixture in bowl and place in fridge 20 minutes until cool; add pepper.
COMBINE in bowl ground beef, parsley, egg and breadcrumbs.
ROLL into 8 patties.
NOTE: If patties look or feel dry at this point they will come out that way; should have a combined texture.
NOTE: Can use less garlic.
NOTE: Pampas has just come out with low fat pastry 33 percent less fat which is what I used.
NOTE: DO NOT COOK ground beef and TRUST that it will cook properly in the pastry :).
CUT 2 sheets of puff pastry into 4 pieces.
PLACE pattie in middle of pastry, add the mushroom mixture on to of the beef and fold like and envelope; making sure you pinch close all seams;.
HELPFUL HINT --- Do not feel you have to be gentle with the pastry and you do not want to touch it for too long so that the heat of your hands melts it.
Spray each wellington with oil and.
place wellingtons on tray with baking paper.
BAKE in oven for 35-40 minutes 200C/400°F.
NOTE: Pastry will be lightly golden brown and ground beef will be cooked.
ENJOY!
NOTE: I also put decorative puff pastry hearts at the top of the wellington but when asked hubby if he noticed -- well -- mmmmm -- but I knew it was romantic :).
He did say they were TERRIFIC! :).
SERVED with rocket, feta and tomato.