Low-Fat Glazed Cranberry Mini Loaves
DuChick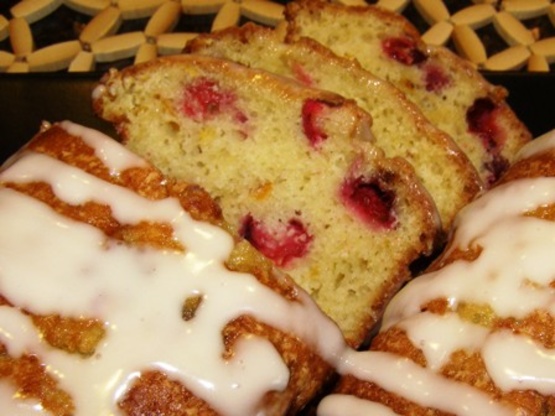 These bake out very high with a nice point on top and are extremely moist with lots of flavor, no one would ever guess they are low fat! ---fresh or frozen blueberries may be used in place of cranberries but do not chop the blueberries--- I have yield at 20 (10 slices per loaf) this is of coarse only estimated it will depend on the size you slice the loaves --- you may omit the glaze if desired --- depending if you are using sweetened or unsweetened orange juice you may want to adjust the sugar amount, I used unsweetened orange with 1 cup sugar and found that to be the perfect sweetness.

Made for Easter dinner and was enjoyed by all! Each bite was very moist and full of flavor with pretty spots of cranberyy color. I got exactly 10 slices from each loaf. The glaze is lovely and makes it almost like a dessert type bread, enjoyed with coffee or tea. No glaze is necessary to totally fall in love with this! Thanks again, Kitten!
Set oven to 350°F.
Set oven rack to second-lowest position.
Grease 2 mini loaf pans.
Pick out any discolored cranberries and discard then chop coarsely.
In a large bowl combine the flour with the next 5 ingredients, then mix in the cranberries.
In a small bowl whisk together the egg with oil, 3/4 cup plus 2 tablespoons orange juice and vanilla.
Add to the dry ingredients; using a wooden spoon mix JUST until combined (the batter will be thick, do not use an electric mixer for this).
Divide the batter between the two mini loaf pans.
Bake for 30-35 minutes or until the loaves test done.
Cool loaves completely.
For the glaze in a bowl whisk all glaze ingredients together until smooth adding in more sugar or milk until a fairly thick glazing consistency is achieved.
Using a spoon drizzle the glaze over the top of the loaves.