Low Fat Fresh Peach Cobbler
Derf2440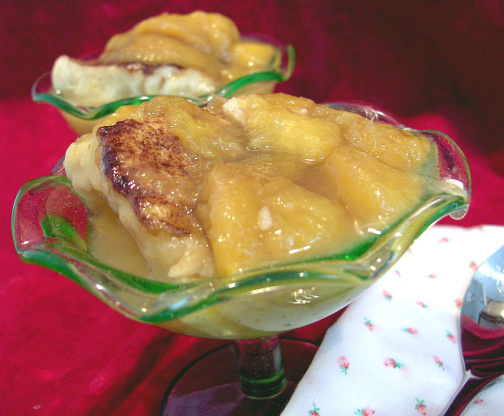 Low fat and healthy for you. Tastes great but you may want to adjust the sugar or spice.

Sorry I didn't have a lot of luck with this recipe. The filler was ok but the biscuit top did not turn out , they didn't rise enough and were very heavy. I may try them again but would use a regular biscuit recipe instead of the bisquick. We did enjoy the filling.
cinnamon and sugar for shaking on top.
Combine 1/8 cup water, peaches, both sugars in saucepan.
Bring to high heat and then lower to simmer.
Simmer for 2 minutes.
Stir only to heat evenly.
Combine cornstarch in 1/4 cup cold water to dissolve.
Add to peach mixture.
Spray glass pie plate with Pam and pour mixture into it.
Mix all the topping ingredients and drop by spoonfuls on peach mixture.
Shake on cinnamon and sugar.
Bake at 400º for 15 minutes, Lower temp to 350º and bake 7-10 minutes longer.
Serve with Dream Whip topping (made with skim milk) or Fat Free Cool Whip.