Low Fat Curried Butternut Squash and Carrot soup
Linky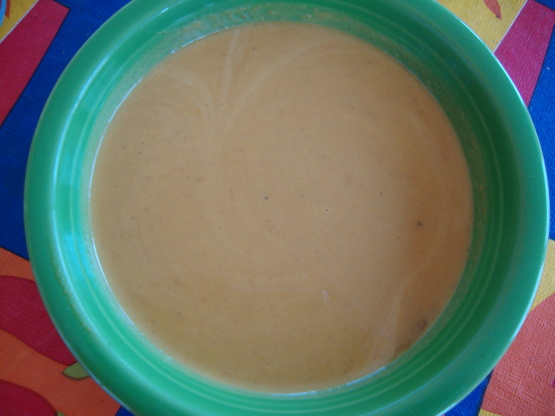 Low fat, delicious and nutritious pressure cooker soup.

Top Review by Linky
My end result was lovely. I did have to do some substitutions because I didn't have or couldn't find the ingredients as stated. I used hubbard instead of butternut. I guestimated and used a little over 2 cups of puree that I had cooked and frozen for another squash recipe. I used closer to 1/2 medium onion, 1 and 1/2 tsp. of curry powder, 1 packet of Goya Sazon with cilantro and annetto (couldn't find "tropical" anywhere - in specialty stores or the company's website) 1 can of fat free chicken broth (could not find Annie Chun's ginger chicken broth anywhere, including company's website) 1/4 tsp. powdered ginger, 2 cups water regular half and half low-fat croutons I don't own an pressure cooker and did not notice that little detail when I picked out this recipe. So, I sauteed onions, garlic in about 1 Tblspn. olive oil. Simmered everything except half and half until carrots were tender, blended with immersion blender, stirred in half and half. I will make this again, for sure. (Made for My 3 Chefs)
1

whole butternut squash

3

medium carrots
1⁄4 onion

1

clove garlic

2

teaspoons curry powder

1

packet Goya sazon tropical

2

cups fat free chicken broth (I use Annie Chun's Ginger Chicken broth)

3

cups water
1⁄2 cup fat-free half-and-half

15

fat-free original Pringles (gives a bit of fatlike mouth feel due to Olestra content) (optional)
Remove seeds from squash, peel if desired.
Cut into uniform size chuncks.
Place all ingredients except half& half in pressure cooker.
Cook on high pressure for 8 minutes.
Allow pressure to dissipate.
When it is safe to open the cooker, do so.
You may remove the skin from the squash at this time if you wish, though I did not bother.
Use an immersion blender to puree the soup.
Add the half& half, and puree some more.
This is a very think soup, add more chicken broth or water to thin if desired.
Add S& P and add'l curry powder to taste.
This recipe contains Olestra (from the pringles) which causes dietary upset in some individuals.
Leave them out if this is a problem.