Low Fat Crispy Fish and Chips
Derf2440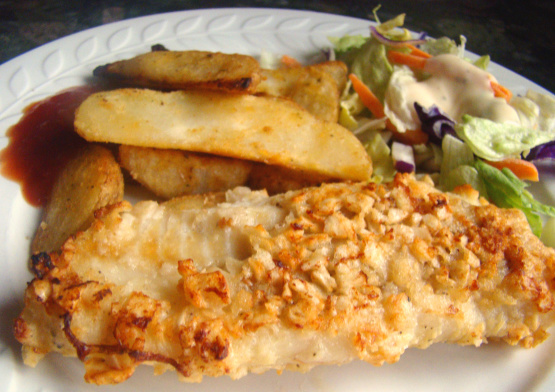 This is a fantasticly low fat recipe. It is a lovely way to have takeaway at home, and is incredibly easy to make. You can involve children in crushing the rice crackers, they seem to really enjoy that step.

Very good, I used cod, it cooked up very nicely. But it didn't brown, so i put it under the broiler for a few minutes to get it nice and golden. I lost some of the coat, it didn't stick as well as it should, but it was crisp thanks and the chips turned out perfect, I just used a little sea salt and pepper and garlic powder. thanks for posting.
4

(700 g) sea bream fillets (use any white fish you prefer)

100

g plain rice crackers

118.29

ml flour, for dusting

1

egg, lightly beaten

1

kg old potato

14.79

ml moroccan mixed spice (use any combo of dried herbs and spices that you like)
Preheat oven to 200°C Remove any skin or bones from fish.
Crush the rice crackers to a rustic crumb.
Dust fish with flour, dip in egg, and coat with cracker crumbs.
Spray both sides with olive oil spray.
Place on baking tray and bake for about 10 minutes, until cooked through and golden.
For the chips:.
Wash and peel the potatoes.
Cut into chip shapes about 1.
5cm thick.
Spray with the olive oil spray.
Sprinkle with the seasoning and toss slightly.
Bake on a baking tray for about 15- 25 minutes until they are browned and crisp.