Low Fat Cranberry Chocolate Chip Granola Bars
J-Lynn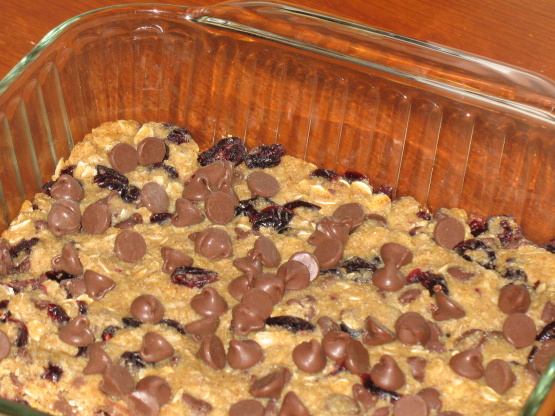 I haven't tried this recipe yet, but the combo of dried sweetened cranberries and chocolate chips sounds delicious! Please let me know what you think.
Preheat oven to 300 degrees farenheit.
Spray an 8" square pan with cooking oil spray or coat sides and bottom of pan with canola oil.
In a large bowl, combine oats, flour, wheat germ, and cinnamon.
Stir in honey until dry ingredients are well coated.
Stir in dried cranberries and 1/3 cup of the chocolate chips.
Pat mixture into oiled pan.
Top mixture with remaining 1/3 cup of chocolate chips.
Bake for 18 - 20 minutes or until top is golden.
Cool in pan, then cut into squares.