Low-Fat Cornflake Chicken Tenders With Honey Mustard Sauce
teresas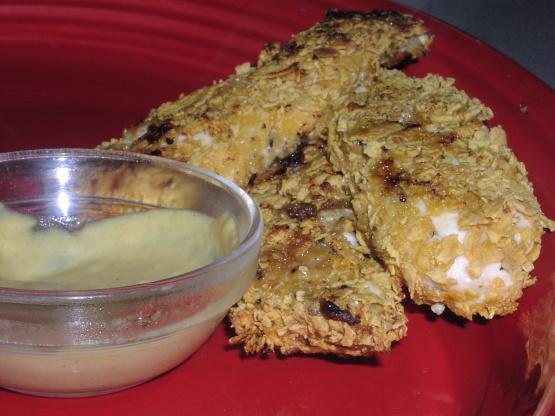 This is a delicious "unfried" fried chicken recipe. Chicken tenders are dipped in cornflakes and baked in the oven. I recommend placing the cornflakes in a ziploc bag and using a rolling pin to crunch the cornflakes into very tiny pieces (to help coat the chicken better). Honey and mustard are used to give the chicken extra flavor without adding any extra fat. Be sure to watch these carefully because the cornflakes can burn easily in the oven. For an Italian twist try adding 1/2 teaspoon dried basil and oregano to the cornflake mixture. Or, add a pinch of chipotle chili powder for a Mexican twist. Enjoy!

Very tasty! We really enjoyed the honey taste and the tartness of the mustard. Easy to prepare and quick to cook. I used the tenderloins and added in the chipotle chili powder, which next time will be increased. Just served them with some oven fries that cooked at the same time. Yum! Thanks for posting. :)
Preheat oven to 450 degrees F.
In a shallow dish combine egg, honey, and yellow mustard.
In separate bowl stir together crushed cornflake crumbs and pepper.
Dip chicken strips into egg mixture and then roll in the crumb mixture to coat the chicken.
Arrange chicken strips on ungreased baking sheet.
Bake about 12 minutes until outside are golden and chicken is no longer pink.
For honey mustard sauce, just stir the dijon mustard and 1 tsp honey together.