Annacia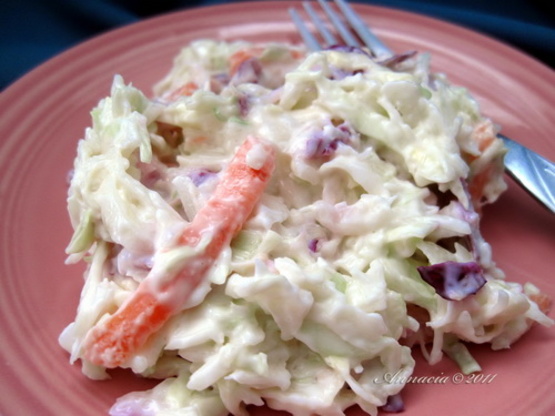 This is a recipe I've been making for some time and am just now getting around to posting. It is from The Best Kept Secrets of Healthy Cooking by Sandra Woodruff, RD. It is so nice to be able to enjoy crunchy healthy coleslaw without worrying about all the mayo in it! I sometimes sub a bit of plain fat free yogurt for some portion of the mayo; it all really depends on your tastes. According to the book each serving is 2/3 c. Cook time does not include chill time.

Family loves this cole slaw - including my husband and daughter who usually don't like slaw! Thanks for posting their recipe = and especially one that doesn't have dairy for allergic family members!
Place the cabbage, carrot, and bell pepper in a large bowl and toss.
Place the remaining ingredients in a small bowl and stir to mix.
Pour the dressing over the cabbage mixture and toss to mix well.
Cover the salad and chill at least 4 hours before serving.