JustJanS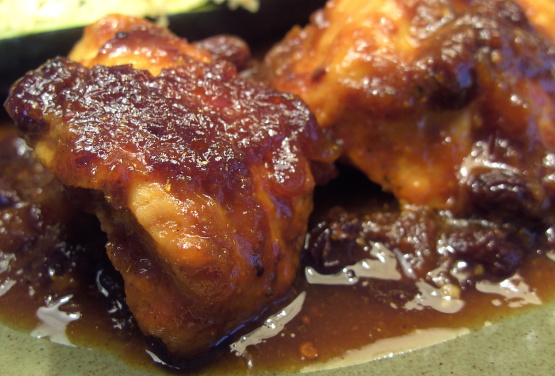 Inspired by the Internet, TRUE! Changed things to suit my tastes too! Wonderful combination of ingredients, SO easy to do! Look forward to my first review!

Yum, yum, yum Mickey. I used two skinless chicken breasts (which would lower the fat count even further), my own homemade apricot chutney, and fresh grated ginger. I used all the curry powder and we thought it was perfectly spiced. I was amazed you could actually taste the first lot of spices rubbed in to the chicken, then the sauce over the top. I reduced the initial cooking time to 30 minutes (from the hour) and found that and the last 15 minutes were enough.
PREHEAT oven 180F/350C.
Wash chicken and pat dry; cut chicken breasts in half vertically and then horizontally so you have 2 or three smaller pieces.
COMBINE pepper, paprika and garlic salt.
PLACE chicken in a carresole dish sprayed with oil.
RUB spices on BOTH sides of chicken and place in a single layer in the casserole dish.
NOTE: I used glass Pyrex 13 x 9 dish.
NOTE: I used store bought Kato's peach chutney; can also use Apricot too!
COMBINE chutney, lemon juice, curry powder, givger and brown sugar
NOTE: adjust tastes to YOUR liking ie if don't like as much curry or garlic then adjust it.
POUR above over chicken and bake COVERED for 1 hour; basting every 15 - 20 minutes.
UNCOVER and bake UNCOVERED for about 10 - 15 minutes until chicken looks glazed.
ENJOY!