Low Fat Chocolate Oatmeal Muffins
CoffeeB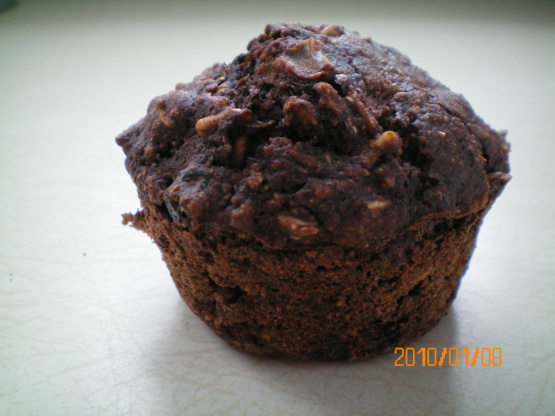 Yummy and won't kill you waisteline.

Overall these were pretty good but they had a bit of a funny aftertaste that I didn't enjoy. Also the oats were still very evident which I didn't mind but my kids didn't enjoy at all. These muffins really don't rise so I recommend filling them to the top. I didn't read all the reviews first, filled my muffin tins 2/3 of the way full as recommended with most other recipes and threw away some extra batter. I was pretty disappointed when my muffins were little and flat.
Soak the oats in milk for about one hour.
Preheat the oven to 400.
Spray the muffin pan with cooking spray.
Combine the oat mixture with the applesauce and egg whites, and mix until combined. In a separate bowl, whisk the dry ingredients together. Add the wet ingredients to the dry mix until just combined. Add the chocolate chips. Do not over-mix of the muffins will be tough. Spoon the mixture into the muffin pan, forming a total of 12 muffins.
Bake for 20-25 minutes, or until done. Remove from pan and enjoy.