Low Fat Chocolate Chip Banana Muffins
Pam-I-Am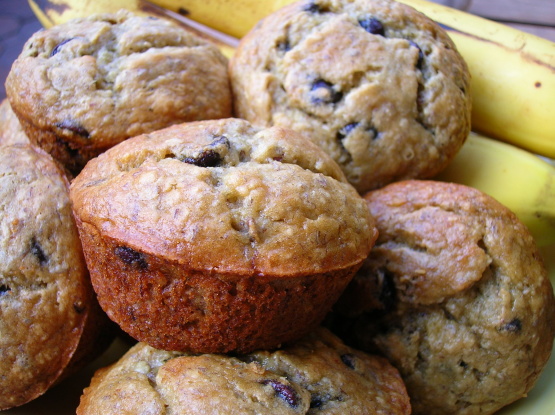 Something the kids will like!

We love this muffin recipe!!! I followed completely the first time and it was great, but now, instead of white flour, I add 3/4 cup of rolled oats that I pulse in the food processor quickly, blueberries, ground pears, if I have a few extra ripe ones (instead of applesauce), almond extract, and a spoonful or 2 of Nutella. The kids love all the flavors, and with the addition of the almond extract and other goodies I cut the sugar to 1/4 cup.
Mash bananas.
Add remaining ingredients except chocolate chips and mix.
Add chocolate chips and stir (I start with the 1/2 c and add more if it looks like too little.).
Pour into grased muffin tins and bake at 350 for approx 15-20 minutes (until toothpick comes out clean).