Low-Fat Chocolate Cheesecake Muffins
Bayhill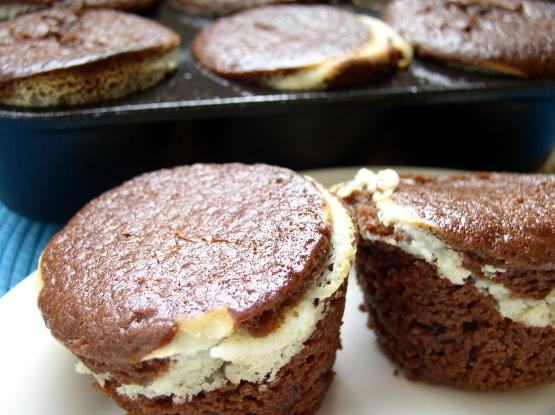 Taste like Twinkies... with less sugar! the secret is replacing some cream cheese by light Ricotta cheese.

These are really yummy, especially for the low calories and low fat. The chocolate part was moist and dense...almost brownie-like. I did have integrity issues, though. The cream filling burst up through the top and sides of my muffins. I think maybe next time I will put only 1/3 of the batter into the tin before putting in the filling and cover them with 2/3 of the batter. Otherwise the muffins rise up really high and the filling gets pushed way up to the top.
Preheat the oven to 350°F Spray a 12-cup muffin pan with vegetable spray.
In a large bowl, combine sugar, cocoa, yogurt, oil, vanilla and egg.
In another bowl, stir together flour and baking powder. Stir the mixture into the cocoa mixture just until everything is combined. Divide half of the batter among the prepared muffin cups.
In a food processor or using electric beaters, beat cream cheese, ricotta cheese and icing sugar until the mixture is smooth. Divide the cheese among the muffin cups. Top with the remaining batter.
Bake for 20 to 25 minutes or until a tester inserted into the middle of a muffin comes out dry.