Low Fat Chili Made With Fat-Free Ground Turkey, 210 Calories Per
Annacia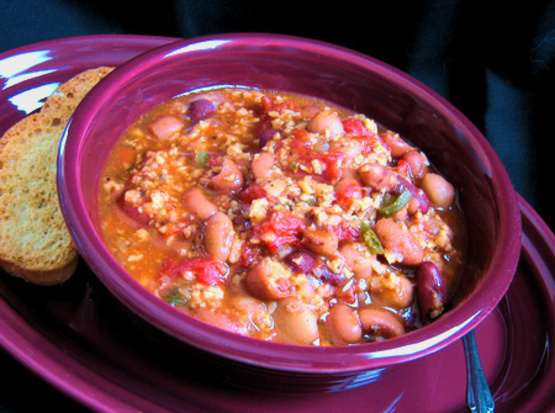 An anytime fun crowd pleaser. Make it by the truckload, keep leftovers in Ziplocs, whip 'em out in the morning & just let thaw.

The texture as written is just not what we are looking for in a chili. It was thick to the point that it reminded me of goulash and belonged on a plate instead of a bowl - I ended up adding another can of diced tomatoes, one cup of beef broth and one cup of V8. I reduced the serving size as another reviewer did (to 5 which evenly divides the meat, beans and onions). Since I strayed so far from the recipe, I can't say that I'd make this one again. Made for Pick A Chef Spring 2008.
Spray each of 3 skillets with cooking spray.
Sautee the turkey throroughly. (More effort is required stirring/separating ground-turkey "crumbles" than with high-fat, slippery ground beef.).
Lower heat. Pour off all drippings.
Add the crushed tomatoes, onions, and Taco Seasoning. Stir. Add kidney beans, stir again, and let simmer for 5 minutes.
Top with with diced tomatoes, shredded lettuce, sliced black olives & fat-free cheese if desired. Add 30 calories for each cheese slice.