Low Fat Chicken Kiev and Chips
Pneuma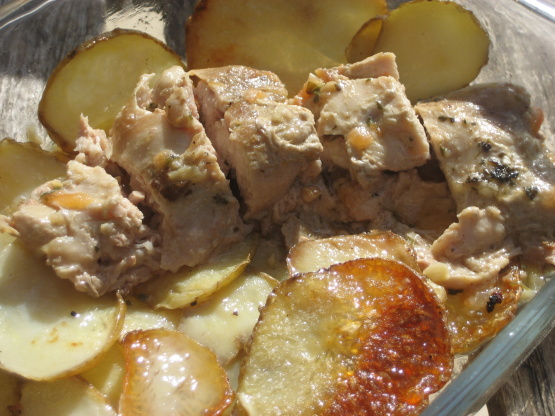 When I was little, I loved Chicken Kiev, and recently I wanted to come up with a low fat alternative. My mum introduced me to chicken thighs, which are relatively low in fat, and I started experimenting and this is what I came up with. It's really nice and easy to make.
Preheat oven to 200 degrees Celcius.
Spray a square of baking foil with the cooking spray, and place the chicken thigh onto it.
Mix together the salsa, mayonnaise, margarine, garlic and herbs to taste, and push into the 'hole' in the piece of chicken where the bone was.
Spray the top of the piece of chicken and bring the foil up to form a parcel. Place on a baking tray in the oven.
Cut the potato up into chips, and microwave on high for 2-3 minutes (depending on size of chips).
Spray a baking tray with cooking spray, then add chips. Spray again, and toss the chips to make sure they're evenly covered. Put in oven with chicken (which should have been in for about 8-10 minutes).
After about 12 minutes, toss the chips again and make sure they're cooking evenly. After they've been in the oven about 25 minutes, they should be ready (time depends on oven and how crispy you like your chips).
Remove chicken parcel and chips from oven and serve, drizzling juices from the foil over the chicken.
I like to serve it with steamed green beans and grilled mushrooms, but it's personal choice!