Low Fat Chicken Green Chili
jfreed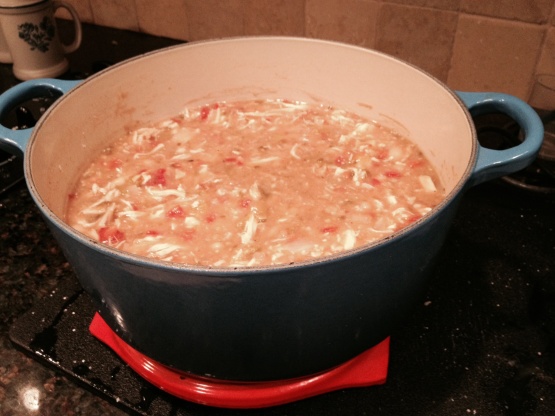 My husband has switched from Atkins to the Body-For-Life diet, where food needs to be low fat and about equal portions of protein and carbohydrates. This is one of his favorites.

Top Review by jfreed
I am addicted to Rotel tomatoes and was searching for new recipes to use it in. Came across this one and made it tonight. Delicious! I made half the recipe, and it was a lot. (see pic). Flavor was terrific. Think it will be even better left over tomorrow. This one is easy and tasty - exactly what I was looking for!
In a large saucepan or dutch oven, heat the oil over medium high heat and saute the onions for a few minutes, until softened. Add the garlic and saute for another minute. If at any time during the saute the pan starts to dry, add a splash of chicken broth (up to 1/2 cup is set aside in the recipe for this step) and stir.
When the onions and garlic are soft, add the rest of the broth, salt, pepper, salsa and chicken. Stir to combine. Bring to a boil over high heat, then reduce to low and simmer, covered, for 15-20 minutes, or until the chicken is no longer pink in the center. Remove the chicken and set aside to cool.
Stir in the rest of the ingredients and bring to a boil over high heat. Shred the chicken with two forks and add it back to the pot. Stir to combine. Reduce heat to low and simmer, covered, for 30 minutes. Stir occasionally to keep from sticking to the bottom of the pot.
We like to eat this topped with a little bit of reduced fat shredded cheddar cheese and a dollop of low fat sour cream.