Low Fat Chicken Enchiladas With High Fat Taste.
lazyme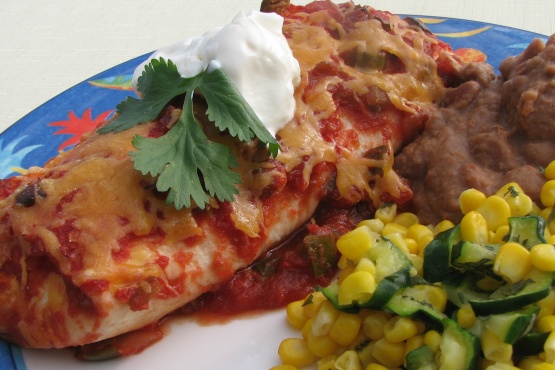 I came up with this tonight to see if I can enjoy enchilada's while trying to cut fats. It turned out to be delicious and did not taste low fat at all :) Easy tripled or doubled

I made these last night and they were a huge hit with my husband and I. I had to use a lot more sour cream and cream cheese than the recipe called for and doubled everything else! THey were very very tasty! We will definitely have these again!
Make salsa if you are using home made.
Preheat oven to 375 degrees.
Combine cream cheese, sour cream, onions, cumin, cilantro, jalapeno and green chilis.
Fold in cooked chicken.
In a small baking dish (I have a perfect one for 3 enchiladas) layer the bottom with salsa.
Warm the wraps in the microwave and layer 1/4 to 1/3 cup of chicken mixture on each, wrap and place seam side down in dish.
Cover with more salsa and bake a half hour until heated through. Sprinkle with 2 tbs of cheddar cheese and place back in the oven until bubbling.
Serve with extra salsa and sour cream if desired.