DuChick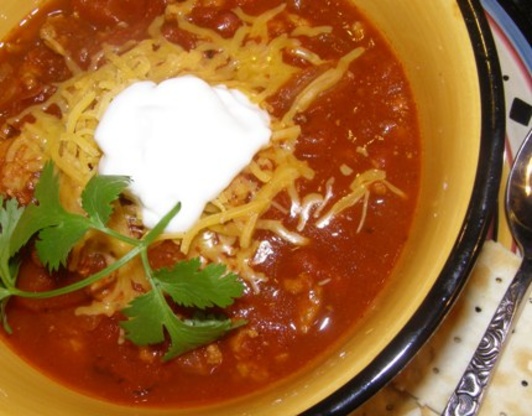 Very flavorful and healthy, filling meal. Add fat free cheddar and fat free sour cream for even more flavor.

Oh delish! I hadn't used ground chicken in chili before, but I sure will from now on! This had the perfect "heat" for my family and we all loved it...something that doesn't happen often. I didn't drain the tomatoes and even added about 1/2 cup water to get the consistency I wanted. I also added all veggies right into the chicken mixture rather than cook separately. Simmered for about 45 minutes and fed the crowd! MERP'd for My 3 Chefs. Thanks Jen!
Spray large skillet with non stick cooking spray.
Cook chicken and garlic over medium heat until browned, stirring to break up meat.
Drain.
Add spices, stir well.
In large pot, combine tomatoes, beans, onion, chilies, tomato paste, and tomato sauce.
Cook until hot and well combined, about 10 minutes.
Add chicken mixture.
Cover and cook on med heat until all the flavors are well blended.
(the longer it's cooked, the better the taste will blend, but it can cook for as little as a half hour).