Low Fat Cheesy Jumbo Pasta Shells With Ground Turkey
KadesMom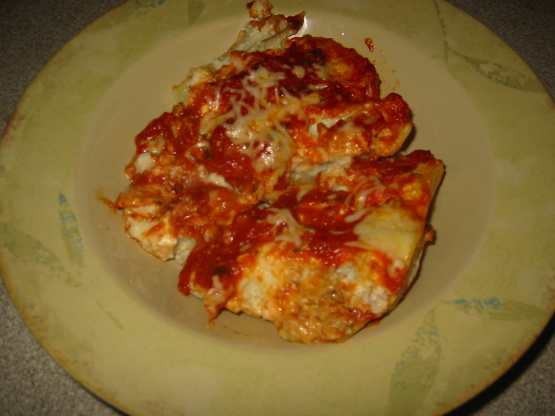 A great lowfat version! This is rich, creamy and your family will love it. I make it without meat as well. It's great either way.

Made this last night and wow... so yummy! Everyone raved about them... my hubby ate like 6 of them! HA! Only thing I would say is that the recipe makes waaayyy more filling than needed. I ended up freezing half of it, but at least next time I make it all I have to do is make the sauce and boil shells. Next time I will half all the ingredients for the filling (except the meat, still do 1 lb of meat). I also added some oregano and dried basil... delish!
In an 8 quart pot, bring water to a boil and cook shells according to package directions.
Drain and cool immediately with cold water.
Drain and place open side down on paper towels.
Meanwhile brown ground turkey with onion and garlic; drain fat.
Combine the next 8 ingredients.
In a medium bowl, combine ground turkey and the cheese mixture.
Reserve the 1/4 cup of Mozzarella.
Place a thin layer of spaghetti sauce into the bottom of a 12 x 9 x 2 inch baking dish.
Preheat oven to 375 degrees Fahrenheit.
Spoon the cheese/meat mixture into each pasta shell and place open side up, in a single layer, in prepared pan. I don't usually use all 12 ounces of noodles.
Pour the remaining sauce (RESERVE 1 Cup Sauce) over the stuffed shells.
Loosely cover with foil and bake for 40 minutes.
During last 5 minutes of baking, remove foil and sprinkle remaining Mozzarella cheese on top.
Bake 5 more minutes.
Garnish with fresh chopped basil. I like to have a side of warm spaghetti sauce to drizzle over; especially for left-overs.