awalde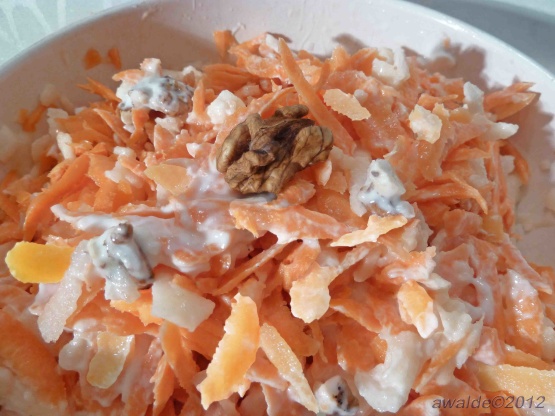 Typical German Rohkost ("raw food"). Healthy, quick and full of flavour.Slightly sweet and refreshing. Eat as a lunch with wholemeal bread or as a light dinner with bread and an additional tomato salad.

Scrumptious!!! My DH and I love this salad. My friend has a recipe similar to this, but this one is much better. To keep the apples from turning brown I put them in a separate bowl with the lemon juice and tossed them around before adding them to the carrots. This kept them from browing so quickly and it made the apples have a nice little lemony zing to them! I also used whole-milk vanilla yogurt as it was the only kind that I had on hand, but it helped sweeten the salad without having to use as much honey. And instead of nuts I added raisins, they get very nice and plump after being in with the juicy carrots and apples. Great recipe Inge! Definately a keeper that I will be making again and again! Thanks!!!
1

cup carrot, coarsely grated
3⁄4 cup apple, grated

3

tablespoons nuts (roughly chopped, toasted if you have time)
1⁄4 cup low-fat yogurt
1⁄2 teaspoon honey (or sugar)

1 -2

teaspoon lemon juice (depending on how sweet you like it)

1

pinch salt
Mix all ingredients except nuts together, sprinkle with nuts.
Serve immediately, because it turns brown within an hour.