Low-Fat Carrot Cake With Cream Cheese Frosting
PaulaG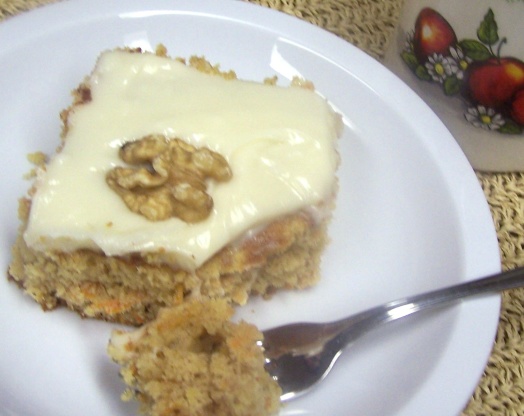 Tasty yet relatively easy on the waistline. Apple sauce replaces the usual fat to keep the cake moist. If you wanted to make it even lower calorie, you could substitute Splenda for some or all of the sugar.

Top Review by Wallar
I followed this recipe best I could. There seemed to be some steps missing. It turned out pretty heavy...more like a pound cake or a bread than a "cake". Regardless, it tasted pretty good. The cream cheese frosting was excellent with low fat cream cheese. I also added walnuts to the cake, rather than the frosting. I don't think I will make this again though...I was looking for more of a cakey cake than a bready cake.
Coat 2 (8-inch) round cake pans or 1 13 x 9-inch pan with spray and dust with 1 Tbs flour.
Combine 2¼ cups flour through nutmeg in a medium bowl.
Combine sugars through egg in a large bowl and beat well at medium speed; add to flour mixture, stirring just until moist.
Stir in carrot.
Pour into the cake pans, then sharply tap pans once on counter to remove air bubbles.
Bake at 375°F about 30 minutes until a toothpick inserted in center of each cake comes out clean.
Cool in pans on wire racks 10 minutes, then remove from pans and cool completely.
MAKE FROSTING: Beat cream and vanilla in a large bowl with electric mixer at medium speed until smooth.
Gradually add sugar and beat at low speed just until smooth.
(If necessary you can thin the frosting with a little skim milk).
Spread about 1/2 cup on bottom layer of cake; top with other layer. Spread rest of frosting over top and sides of cake.
Alternatively, if using a 13 x 9 pan, just spread frosting over the top.
Either way, sprinkle walnuts over top.