Low Fat Carrot Bran Muffins
momaphet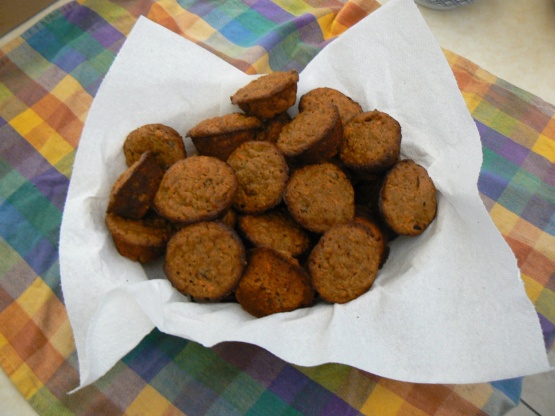 Wonderful carrot bran muffins that are low in fat, yet, I find, taste almost buttery. They have a wonderful moist yet fluffy texture, and not too sweet delicious cinnamon flavour and aroma. The batter is quite thin, which creates smooth domed muffin tops. I have always made these with the soured milk instead of buttermilk. And yes, there really is 1 tbsp cinnamon in this recipe, it is not a typo! NOTE: Do not use muffin liners with this recipe - they are too moist and delicate for them so the muffins will stick to the liner.

Yum delish, made these today, omitted the raisin cause I don't like them but added 1/2 cup of chopped walnuts, used the buttermilk and margarine and only 1/4 cup of brown sugar, followed all other ingredients and directions as noted, I really enjoyed them but didn't think my hubby would like them b/c he likes the sweet stuff (that's why he married me hahaha) but he really liked them and had two, not that these weren't sweet enough but I think someone with a sweet tooth may want to add the full1/3rd cup....will definitely be making these again.
Preheat oven to 400°F.
In a medium bowl, combine flour, cereal, raisins (you may add the raisins in with the wet ingredients if you prefer), sugar, cinnamon, baking powder, and baking soda.
In a large bowl, combine egg, milk, margarine, applesauce, carrot and orange rind.
Add dry ingredients to wet ingredients and mix until just combined.
Spoon into sprayed or lightly greased muffin tin (for 12 muffins) - Do NOT use paper muffin liners.
Bake for 20 minutes, or until tops are firm to the touch, or when a toothpick inserted comes out clean.