3 Reviews
Excellent coffee cake! The consistnecy and flavor were perfect. I was worried because the batter was really thick, but it baked up beautifully. We also really loved the yummy topping. I used 1 1/2 C. frozen blueberries and thought it was plenty. Thank you! Made for the Spring 2014 Pick A Chef event.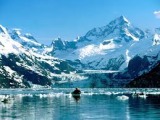 Really, really good! DH said the cake part was great but he doesn't like blueberries. He thought I should use strawberries. Probably not! Next time I'll try chopped apples or pineapple. I used 1/4 cup 0% Fage greek yogurt instead of cream cheese. Made for 2013 Spring Safari PAC.

I made this a few days ago to share with my neighbour. This is certainly for blueberry lovers and I found that 2 cups of blueberries was too much, at least using frozen ones. Next time I will make it in blueberry season and use fresh. The frozen blueberries were difficult to incorporate easily but taste was wonderful. Also used butter rather than margarine because I feel that it goes better with cream cheese - a more velvety texture.
Low Fat Blueberry Coffee Cake