Low-Fat Black and White Cookies
ChefLee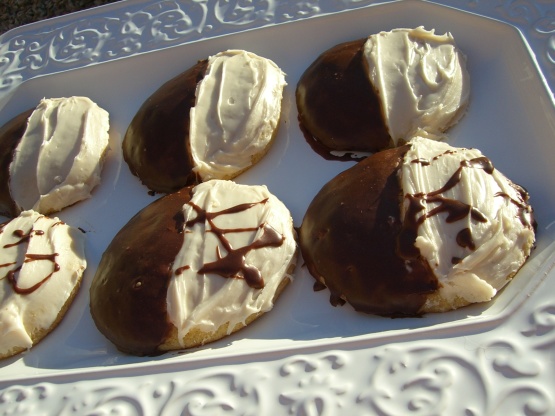 Since I'm not a native New Yorker, I can't say how these compare to the full fat version. Nevertheless, these are delightful, soft cookies with just a hint of lemon. They are wonderful when in the mood for something a little different. Recipe taken from Cooking Light.

Good! I liked the cookie...but I thought it was way too sweet! and I even decreased to 3/4 sugar for the cookie. With some tweeks, it will be perfect!
COOKIE: Preheat oven to 375°F.
Line a baking sheet with parchment paper.
Set applesauce in a fine sieve to drain while you prepare the other ingredients.
In a medium bowl, whisk together flour, baking powder and salt.
In a large bowl, cream together butter and sugar until smooth, 1-2 minutes. Beat in applesauce, vanilla and lemon juice. Add in egg whites and beat until well combined. Stir in flour mixture until batter is smooth.
Drop batter two tablespoonfuls at a time onto the prepared baking sheet. Smooth slightly to form nice, round circles.
Bake for 10 minutes, until set but not browned.
Allow to cool for a few minutes on the baking sheet, then remove to a wire rack to cool completely.
ICING: When cookies are cool, prepare the icing. Sift 3/4 cup confectioners sugar into two small bowls. Add 1 tbsp milk and the almond and vanilla extracts to one bowl and stir until smooth. Add cocoa and 2 tbsp milk to the other bowl and stir until smooth.
Using a small knife and working over the bowls to catch drips, spread each icing over half of each cookie. Set on a rack until icing is set, then store cookies in an airtight container.