PaulaG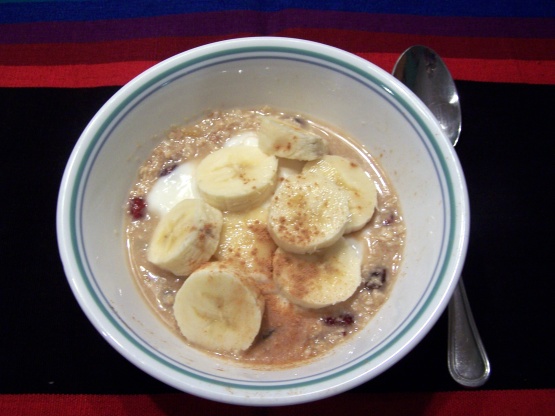 Though there are a few muesli recipes on this site, this one is unique in its inclusion of wheat germ. This recipe mixes up a big batch that can be stored in an airtight container for a month or so. Though the original recipe comes from fatfree.com, this one has been adapted a bit to suit my tastes.

I'm not up and around after surgery so my neighbour came over and made this for us. It's great. My oatmeal is organic so we went between the 1 to 1 and 2.1 ratio. We topped it with blackberries I have growing outside.
Combine all ingredients together and store in an air tight container.
For breakfast combine 1/4 cup of the muesli mix with 1/4 cup of water and let soak for 30 minutes. Serve with 1 cup of yogurt and chopped fruit. Diced apples strawberries, bananas and blueberries all work well.
9/14 update: After reading the reviewer comments, I'm changing the directions to a 1:1 ratio of muesli and water. While the 2:1 worked well for me, my oatmeal is an organic super grainy type that may not represent the typical grain. Thank you Paula and Amis for the helpful feedback.