loof751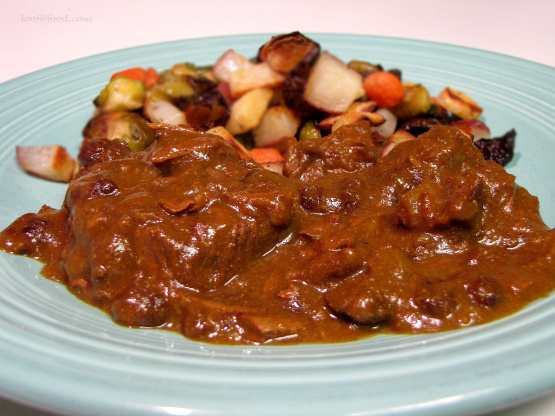 Inspired by the Internet, TRUE! Is similar but not same as crockpot recipe here at ZAAR too! This recipe REALLY worked for me! Hope a review I do see!

This is a flavorful beef dish! I used yellow onions instead of red (personal preference) otherwise made as directed. I simmered for an extra 30 minutes without the lid just to thicken the sauce a bit. Served with some roasted vegetables and really enjoyed - thanks for sharing the recipe!
HEAT frypan; add 1 tbsp stock and saute diced red onions for about 5 minutes; lightly brown; set aside.
ADD in small batches diced beef (I used strips sliced in two or three); brown; set aside.
RETURN beef and onion to pan and ADD rest of ingredients; combine well.
Cover and simmer on low for about 1 to 1 1/4 hours until meat melts in your mouth ; check at about 15 minute intervals and stir; if requires more liquid, add 1/2 nectar PLUS 1/2 beef broth at a time.
ENJOY!
NOTE: I top with coriander leaves; can use parsley if preferred.