Low Fat Beef and Sour Cream Enchilada Casserole
DuChick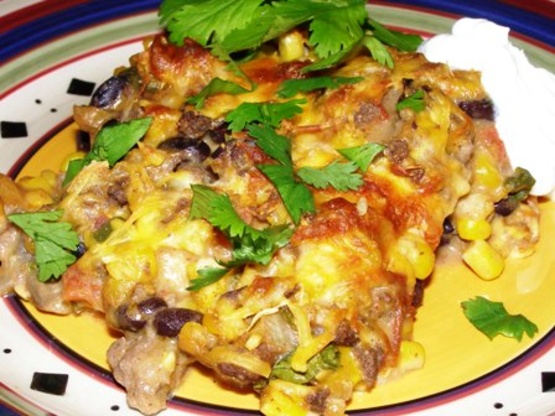 This dish helps my craving for Mexican flavors without feeling I've totally blown my resolve to eat more healthy. Serve with a crisp cool salad and your done. This also freezes well just omit the cheese and cilantro until after baking.

Delicious and just what the doctor ordered when craving comfort food/casserole. The recipe is fab as is but I did make a few tiny adjustments...added Anaheim chili's with the green bell pepper. Added some sliced olives to the top with cheese. Garnished with avocado and green onions and traded It. parsley for cilantro...yum yum...
Brown the beef with onions, peppers, and garlic, stirring to break up the beef.
Cook until no longer pink. Drain the meat mixture well. I like to press the mix with paper towels to remove as much excess fat as possible.
Return the beef to the skillet.
Add the corn, beans, Rotel tomatoes, soup, sour cream and taco mix to the beef and simmer on low for 5 minutes.
Spray a 13x9 pan with cooking spray.
Layer 8 halves of tortillas on the bottom of pan and top with 1/2 of the beef mixture. Repeat layer with remaining tortillas and beef.
Bake at 350°F for about 30 minutes.
Remove from oven and top with grated cheese.
Let set 5-10 minutes, then top with fresh chopped cilantro and serve.