Low Fat Basil Tomato Pesto
Prose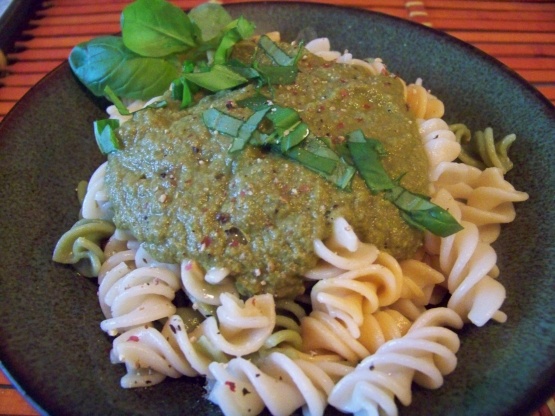 This low fat version of pesto is simply wonderful, and it's just bursting with fresh flavor. I really like the flavor of traditional pesto, but the addition of the tomatoes in this recipe really, really goes well with all that lovely fresh basil. This makes just enough pesto for one pound of your favorite cooked pasta. Or use it to top eggs, baked potatoes, fish, spread it on sandwiches, or add as an extra flavoring to soups or rice. The possibilities are endless! I've also made this using part fresh parsley when I didn't have an entire cup of fresh basil on hand.
To toast pine nuts, spread them on an un-oiled baking sheet and bake in oven at 350 for about 3 to 5 minutes until just slightly deepened in color.
Rinse and drain fresh basil leaves.
In a blender or food processor, combine basil, tomatoes, garlic, pine nuts and salt, and puree until smooth.
Have a rubber spatula handy to scrap down the sides of the blender as you process.
Because there is no oil in this recipe, it takes a bit more coaxing to get the mixture smooth.
Pesto is great served immediately, but can be refrigerated for 3-4 days.