Low Fat Barbecue Chicken Pizza
teresas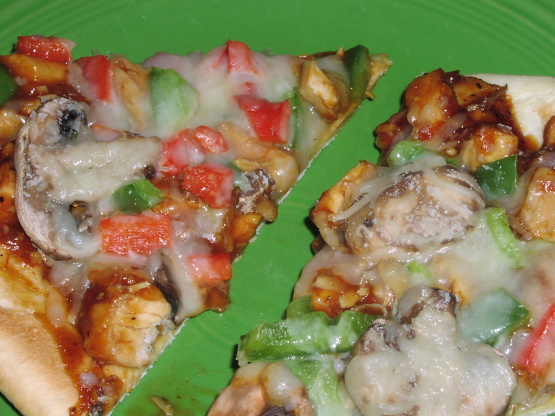 I tried this recipe the first time and it was easier than I thought it would be. If you like more barbacue taste you can increase the barbacue sauce to 1 cup.

I loved this, DH didn't care for BBQ sauce and chicken on his pizza. I enjoyed the tangy sweet taste of the sauce and I love chicken. This was easy to prepare. I did sprinkle some red peppers on top for a touch of heat. Thanks for posting. Made for Spring PAC 2009 :)
Lightly spray frying pan with non stick cooking spray.
Quickly cook diced chicken, onion, and barbacue sauce until chicken is no longer pink.
Remove from heat.
Combine rolls into a ball.
Roll into a 13 inch circle to fit a pizza pan.
Place dough in pan and pre cook at 400 for 10 minutes.
Spread chicken mixture over dough.
Sprinkle green pepper, red pepper, and mushrooms over the top.
Sprinkle with mozzarella cheese.
Bake at 350 for 10-15 minutes or until cheese is melted.